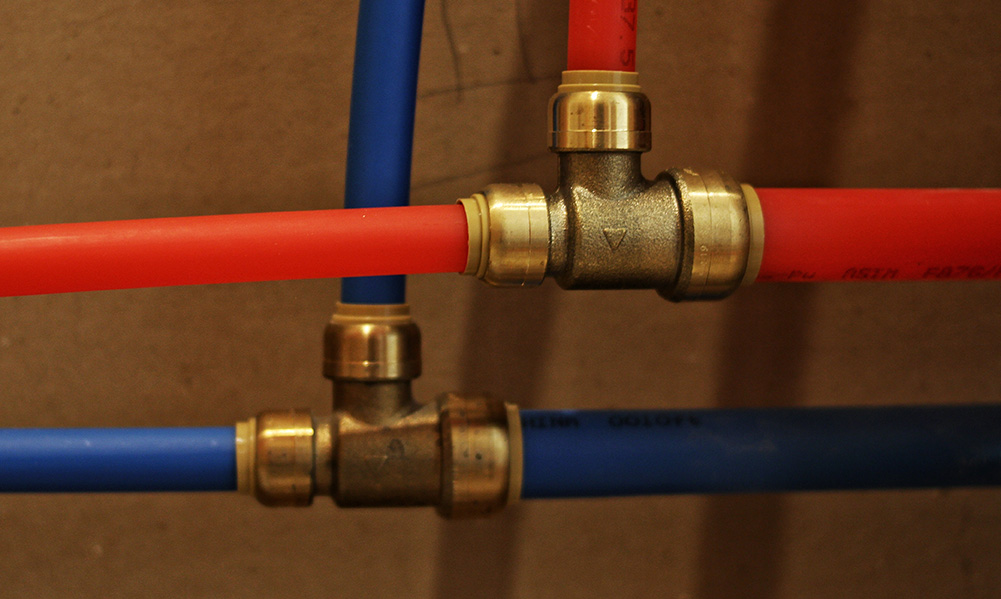 PEX Repipes
Stop Leaks Forever with PEX Pipes
There's nothing worse than a leaky sink. In addition to being annoying and damaging, they can also be indicative of serious issues with your home's pipes. If you've ever "fixed" the same leak over and over, or had plumbers out to your home multiple times, but the problem keeps coming back, there's a good chance you need new pipes.
If you have bad pipes and your only "symptom" thus far is leaks, consider yourself lucky. Leaks are a telltale sign that your pipes are failing, and it's only a matter of time until more disruptive and expensive issues show up, such as cloudy and off-tasting water or even outright pipe failure. When pipes burst, break, or separate, it puts your home at risk for massive flooding and huge repair bills.
PEX Pipes Can Fix the Problem Before it Gets Worse
At Aqueduct Plumbing Company, we believe that an ounce of prevention is always worth more than a pound of cure. Although we're capable of handling the biggest plumbing disasters, we much prefer helping homeowners like you avoid them in the first place. That's why we strongly recommend pipe inspections by our qualified experts and, if necessary, full pipe replacements.
In many cases, we recommend existing pipes be replaced with cross-linked polyethylene (PEX) pipes. Unlike traditional PVC pipes that many homes built in the past few decades use, PEX pipes are highly durable, flexible, and made from a high-density plastic that's designed to last for many years. And unlike PVC pipes, PEX pipes require fewer fittings and less labor to install. If you choose us to repipe your home, we'll pass those savings directly onto you.
Houston's Premiere Repiping Company
Why Use PEX Pipes to Stop Leaks?
Ignore leaks at your own peril! If you have leaks under any sinks in your home that always come back, or that simply don't respond to traditional repair methods, it may mean you have a ticking time bomb on your hands in the form of failing pipes. A full PEX repiping can not only supply your home with much higher-quality water, but it can also reduce your risks of catastrophic damage.
So why choose PEX pipes over others? Here are a few reasons to consider:
PEX pipes hold up under extreme temperatures—PVC pipes are prone to warping or flexing in high heat or extreme cold. While occasional exposure typically doesn't damage them, frequent exposure can lead to microfractures. Over time, the stress can cause pipes to begin to fail, resulting in leaks or even complete breaks. PEX pipes are much more resistant.
PEX pipes can be bent—PVC pipes run in a straight line only. When they must be installed around corners or obstacles, they must be connected to notches. That increases expenses and the likelihood of failure. PEX pipes, on the other hand, can bend, reducing costs and the chances of leaks or breakage.
PEX pipes don't corrode—Unlike metal pipes, PEX pipes never corrode. That means that for the lifetime of your pipes, you'll have peace of mind knowing you're getting clean water with no impurities. In addition, pipe corrosion can eventually lead to serious mineral buildup, and that means reduced water pressure and even clogged pipes.
PEX pipes are manufactured without harmful chemicals—It's one thing to consistent clean water—it's another thing for your pipes to be completely safe. That's the case with PEX pipes, as unlike PVC pipes, they're manufactured without the use of torches, glues, chemicals, and solvents, and there's no lead used in their installation.
PEX pipes can be installed faster—Let's face it—no one wants contractors or installers in their home for days on end, especially when it involves their water supply. PEX pipes have numerous advantages over PVC that make them much faster to install, creating less downtime and fewer headaches for and your family.
PEX is a great solution for many homes, but not all. Different homes require different solutions. That's why it's essential to have our experts visit your home to assess your specific situation to determine the exact type of pipes you need to repair damage and to give you peace of mind for decades to come.
Get a Free Estimate for PEX Repiping Today
The repiping experts at Aqueduct Plumbing Company are ready to go to work for your family. Don't risk leaky or damaged pipes turning into broken or flooding pipes. Fix the damage now before it's too late with a complete repiping job of your entire home.
Our team is standing by to overhaul your home's pipes with high-quality PEX pipes, which are designed to last for many years with minimal upkeep and maintenance. Best of all, our estimates are always free, and there's no obligations. Get your free estimate today—we're ready to repipe your home with the highest quality pipes on the market.