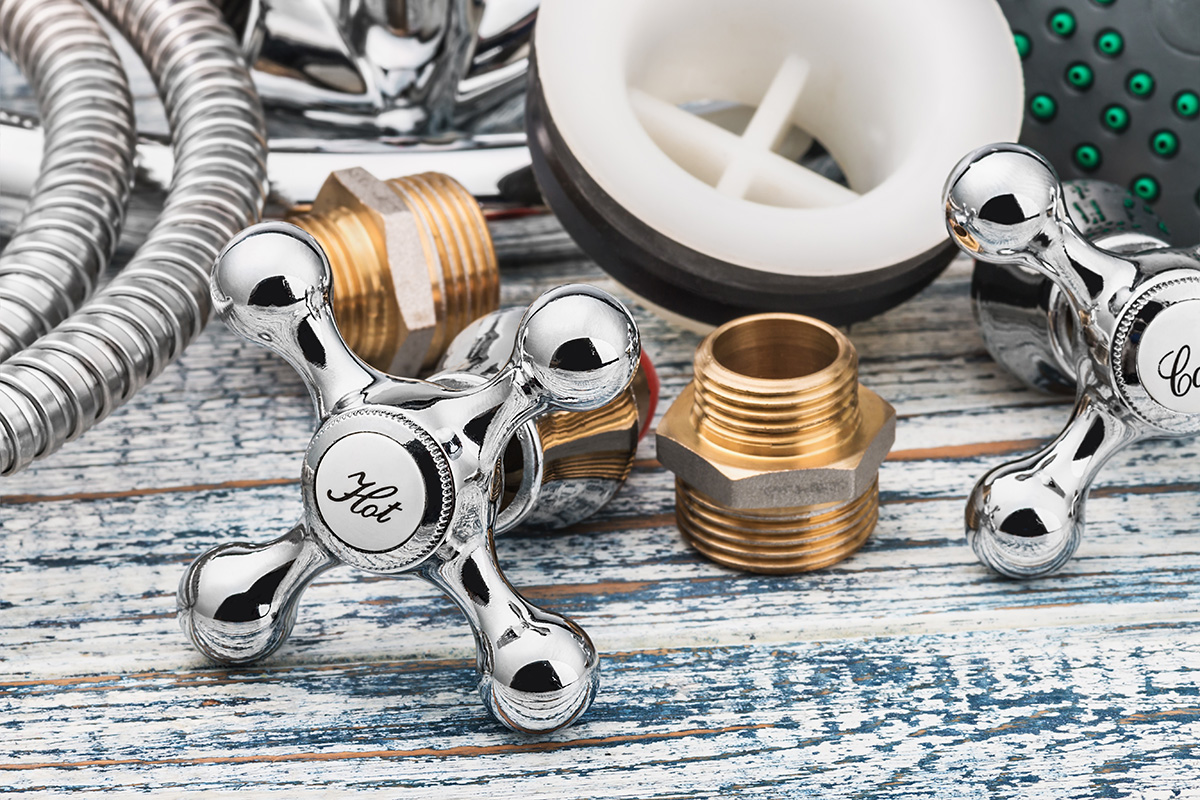 Plumbing Contractor
When it comes to your home's water supply, there's no greater peace of mind than having the help of a reliable, proven, and expert plumbing contractor.
You use water for nearly every aspect of domestic life, from cooking and cleaning to bathing and drinking. Having clean, pure, and reliable water simply makes life better. But when your water is cloudy, impure, or even unreliable, it can make daily life a hassle and even unpleasant.
The potential problems with a home's water supply go far beyond just how it tastes, smells, and looks. Water is essential to a home's function and comfortability, but it can also be a home's biggest downfall. Clogged drains, leaks, and burst pipes can all range from mild annoyances to absolute disasters that can cost you tens of thousands of dollars or more in repairs.
At Aqueduct Plumbing Company, our team of highly experienced, expert plumbing contractors works hard to ensure our customers get not only the highest-quality water into and throughout their homes, but we also ensure that their water stays where it's supposed to be—in their pipes!
As plumbing contractors, we know all things residential plumbing. There's not a job that's too big or complex for us to handle when it comes to pipes in homes. Whether it's an existing home or new construction, we've got the experience, expertise, and tools for the job.
Building a new home can be overwhelming. There are so many things to decide and so much that can go wrong, and many builders focus on appearance over functionality. With our plumbing contractors on the job, you won't have to worry about your new home's pipes or water supply. We work hard to ensure our customers get reliable and clean water delivered through pipes that are designed to last for decades.
The type of pipes used in your home matter. PEX pipes are widely recognized as being the most durable, versatile, and cost-effective pipes on the market, and that's what we recommend the most for our new construction and re-piping work on existing homes.
PEX pipes are not only designed to last longer than other types of pipes, but they also don't corrode or have dangerous chemicals involved during their manufacturing process. Instead, they simply give you peace of mind knowing that your home's water supply will continue uninterrupted and with minimal fuss or upkeep for decades to come.
In addition to handling plumbing work "behind the scenes" in new construction, we also install sinks, faucets, garbage disposals, toilets, bidets, and more. Don't trust just any general contractor or a random person from your builder crew to handle these jobs! For maximum peace of mind and long-lasting efficiency, it's important to get the job done right the first time by the people who have the needed experience and knowledge—in other words, us!
It's one thing to have reliable water in your home, it's another thing to have reliable HOT water in your home! Water heaters are an essential part of every home, but they're also frequent sources of headaches for homeowners.
Our plumbing contractors install a variety of water heaters, ranging from traditional water heaters to tankless water heaters. Both have pros and cons, and we can help you decide which is right for your home and your family.
If you've ever felt like the filter in your refrigerator or on your sink wasn't getting the job done, you aren't alone. These water filters only filter a small amount of the chemicals, minerals, and sediment that are present in Houston's tap water. In addition, they do nothing to filter the water in the rest of your home!
A whole home water filter is the best way to get pure, clean water from every faucet, showerhead, refrigerator, and other water sources in your home. The water filters we install soften hard water, which not only makes it taste better, but it also extends the life of your pipes, fixtures, and appliances.
One of the most common annoyances when it comes to hot water and water heaters is the amount of time it takes for faucets to deliver hot water. The further a faucet or showerhead is from the water heater, the longer it takes for the hot water to arrive. That can be an agonizing wait when you need to hop in the shower in the morning!
A circulating water pump keeps hot water flowing through your pipes around the clock, which means it is delivered on demand right when you need it. No more turning on the faucet or showerhead and waiting for what feels like an eternity for the hot water you need.
Even if your home is new construction, there's a chance you need a drain cleaned. That's because sewer lines can have issues that go undetected until after construction has already begun or is complete. Our plumbing contractors handle all types of drain issues, whether they're due to normal household clogs or due to more serious issues such as broken pipes or sagging sewer lines.
One of the biggest perks of having a slab foundation is not having to worry about a damp, dark, and creepy crawlspace under your home. But one of the biggest drawbacks to not having one is the extra cost and disruption of needing plumbing repairs done in your slab foundation.
Our plumbing contractors have years of experience working with slab foundations, and we know how to place and repair pipes with minimal disruption to the surrounding slab. We achieve this through re-routes, tunneling, and other methods to keep as much of your home's slab intact while we locate and repair any problems with your pipes.
No matter type of plumbing job you have on your hands, there's no risk in contacting us and getting our opinion both on the scope of the job and our price. We offer free quotes on all of our work, so feel free to let us know what you need fixed or installed, and we'll gladly come out, take a look, and give you our expert opinion on your next steps.
There Are Many Plumbing Contractors, but Only One Aqueduct Plumbing Company
We've repiped more than 1,000 homes in the Houston area alone in recent years, and that just scratches the surface of what we can do for both new construction and existing homes in our area.
Simply put, if you need any plumbing services completed at your home or business, there's only one company to contact: Aqueduct Plumbing Company. We're your one-stop shop for all things plumbing, whether it's construction, installation, or repair. Contact us today to get a free quote. We'd love to get started on your home's plumbing projects to give you the peace of mind you deserve.